Creatine Plus is a supplement of performance for the racing of greyhounds. Creatine Plus, along with the intense training, may help to increase a gray power of the dog, which increases the speed and delay fatigue. The power of creatine plus in the run-up to a race ensures the dog has the maximum energy where and when it is necessary to improve the resistance.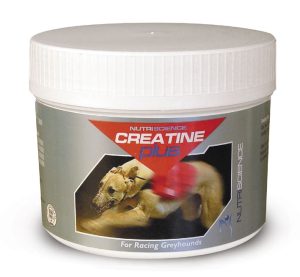 Creatine Plus is an ideal supplement for dogs who need an extra boost.
INFORMATION NUTRITIONAL
Carbonate, crude 55%
Crude Protein 43%
Crude petroleum oils and fats <0,5%
Crude fiber <0,5%
Crude Ash 1,5%
Humidity 2%
HOW TO USE
feeding Recommendations
Initial: feed two tablespoons three times a day for four days.
Maintenance: One scoop per day thereafter.
tablespoon 5 ml enclosed