Aquarium ICA BIOTOP SENSOR 25 Liters WHITE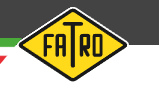 Nano aquarium with a design of simple lines and very elegant
Nano aquarium with a design of simple lines and very elegant.
Has a compartment to hide the filter and termocalentador, four intensities for daylight and two for the night.
The on / off is touch. BASE KIT includes*: filter inside.
The measures include the total height of the tank.
Be the first to ask a question about this product!
Otros productos de la misma categoría: